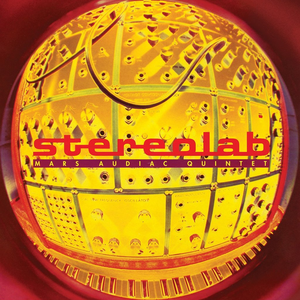 Transona Five
Des Etoiles Electroniques
Ping Pong
Anamorphose
Three Longers Later
Nihilist Assault Group
International Colouring Contest
The Stars Our Destination
Transporté Sans Bouger
L'Enfer Des Formes
Outer Accelerator
New Orthophony
Fiery Yellow
Mars Audiac Quintet is the third album by the band Stereolab, released in August 1994. Initial releases of the CD came with bonus two-track disk. During the recording of the album, guitarist Sean O'Hagan left as a full-time member to form his own group, while keyboardist Katharine Gifford was added. Personnel * Laetitia Sadier - vocals, guitar, Vox organ, Moog synthesizer, tambourine * Tim Gane - guitar, Vox organ, Moog synthesizer, percussion * Sean O'Hagan - guitar, Vox & Farfisa organs * Andy Ramsay - drums * Mary Hansen - vocals, guitar, tambourine * Duncan Brown - guitar, bass, background vocals * Katharine Gifford - keyboards Read more on Last.fm.
cached on: 2020-10-31 09:36:44